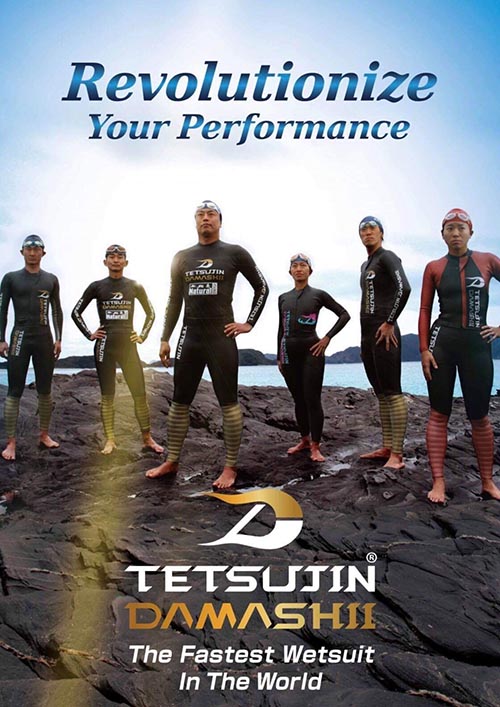 USER REVIEW
Here are what our users had to say about our

Triathlon Wetsuit and

AERO SWIM SHORTS.
---
Yousuke Yoshimura
The 38th All Japan Triathlon Kaike, overall winner!
[TPA22]Premium α full zipper (full sleeve) + bottoms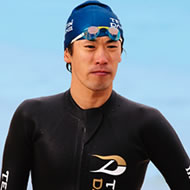 Decreasing fatigue is a key contributor to good results. I was able to swim at a top speed by maintaining a strong 4 – 6 beat kick thanks to the TETSUJIN DAMASHII®'s compression and bio-wave (infrared.) I was able to kick strongly during the race but I did not get as tired. This allowed me to transition to the bike and the run with ease. It was then that I realized how wonderful the TETSUJIN DAMASHII® Triathlon Wetsuit Premium α is, and how willing I was to participate in more races because I can now aim to win the swim portion.
Yoichiro Shin
I was able to make a good swimming time and won the overall championship!
[TPA02] Premium α Top (full sleeve) + bottoms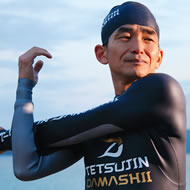 In my recent triathlon races, winning is based on the swim, which is a challenge for me. I certainly train, but I also feel that selecting an effective wetsuit is surely a key aspect to better times.
The TETSUJIN DAMASHII® Triathlon Wetsuit Premium α, is a full custom-made wetsuit, so there is no stress around my shoulder area. It is soft and gives enough flexibility so I do not feel the material rubbing against my neck.
And since it fits perfectly, no water seeps into the wetsuit, and it helps me float better. I feel like I'm sliding through the water. Because of this, I can really focus on the race. As a result, I had a fast swim at the Kaike race and the Goto Nagasaki race, which led me win the overall title.


Koudai Ido
I was able to perform to my fullest potential, and participated in the Japan championship!
[TPA22] Premium α full zipper (full sleeve) + bottoms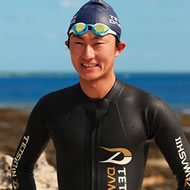 Being one of the first to exit the swim will give you a better opportunity to aim for the top in the overall ranking.
Swimming has always been my top priority, so being able to swim at my best, without having to use unnecessary energy, was the most important thing to me. That's when I found TETSUJIN DAMASHII® Premium α. It helps with flotation and at the same time, allows me to swim without stress. I wore the wetsuit for the first time during the Japan championship preliminaries, and I was able to keep up with athletes who I used to trail behind during swimming. With the TETSUJIN DAMASHII® Triathlon Wetsuits, I not only was able to obtain full buoyancy for swimming, but also was able to save energy for the bike and run. As a result, I was able to pass the preliminary race and compete in the Japan championship for the first time in 2 years. I will continue efforts to be an athlete who can compete in world competitions with the TETSUJIN DAMASHII® Triathlon Wetsuit!

Sae Shibata 
I've become able to face the battle with calmness!
[TPW22] premium w full zipper (full sleeve) + bottoms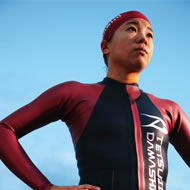 It's difficult to stay at the top ranking in student or elite races if you don't finish with a fairly good time during the first category of swimming. I'm not an experienced swimmer to begin with, so my priority was to improve my swim. I depended on the TETSUJIN DAMASHII® premium w to try to be at the top of the competition during open water races. Prior to this, I often wore ready-made wetsuits. But once I raced with a wetsuit that fits perfectly, I swam my best and competed with ease. I still need to practice to shorten my swim time, but during the actual race, I believe that a quality wetsuit can affect the result. I will do my best to leave a good result this season with the TETSUJIN DAMASHII® premium w.

Tatsuo Terayama
Wetsuit proudly presented by Japan!
First wetsuit, [T02] Top (full sleeve) + bottoms
Second wetsuit, [TPA02] Premium α Top (full sleeve) + bottoms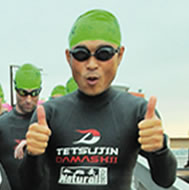 I raced my first triathlon in Miyakojima 5 years ago when I could barely swim 25 meters. I nearly drowned due to hyperventilation from the anxiety of swimming in the ocean. So I naturally became very cautious about selecting wetsuits and have tried many different types of wetsuits, in search for that "perfect fit," something "buoyant and lightweight." I learned that TETSUJIN DAMASHII® Triathlon Wetsuits were developed and designed from years of expertise and knowledge by Natural Energy staff and experts in this industry in Japan, so I decided to order one. Considering that there are as many as 31 measuring points (33 for women) I sensed that this would definitely be the one that would be "my perfect fit wetsuit." When the TETSUJIN DAMASHII® wetsuit arrived, I felt the comfortable material and great flexibility and felt no discomfort around my neck and shoulder area. I was in a good condition during IRONMAN NY so I was able to swim 3.8km in 52min 30sec. There was a competitor from Brazil who noticed the high functionality of my wetsuit and asked me, "please swap it with mine!" TETSUJIN DAMASHII® Triathlon Wetsuit is a wonderful triathlon wetsuit that Japan can be proud of.



Shingo Toume
I'm impressed to find a wetsuit that is not only incredibly buoyant and allows movement with ease, but also removes pressure around shoulders, making them stress free!
[TRK22] Ryukyu Model full zipper (full sleeve) + bottoms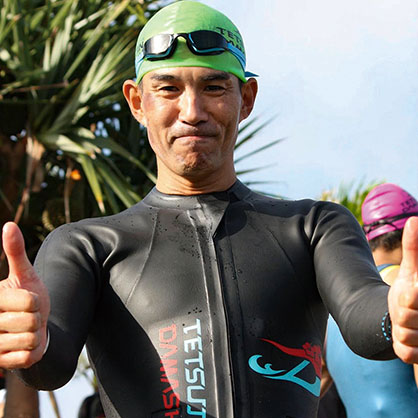 This was my first full wetsuit, but I was really surprised and impressed to find that TETSUJIN DAMASHII® Triathlon Wetsuit is so buoyant that it helps me move forward with no pressure and no stress around the shoulder area.
I like the Ryukyu Model Hibiscus. Thanks to the wetsuit, I was able to swim at a good position at the "10th Ayahashi Triathlon." I came in first in my age group. Thank you very much for accommodating my needs at such short notice and for making adjustments so neatly.


Shoko Ganaha
What I found surprising the most was it didn't feel like I was wearing a wetsuit!
[TRK22] Ryukyu Model full zipper (full sleeve) + bottoms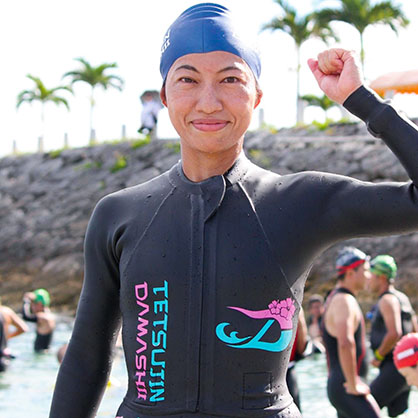 What I found the most surprising when I wore the TETSUJIN DAMASHII® Triathlon Wetsuit, is that it didn't feel like I was wearing a wetsuit at all! The material is very soft and fits so well. I was able to breathe easily since there is no pressure around the chest area. I was also surprised at how I was able to maintain my streamline so easily!! It's definitely a great feature to have for someone who finds swimming to be the least favorite part of the triathlon. Before I came across this wetsuit, my arms used to start feeling tired after about 1 km, but with this, I didn't feel as tired. Same went for my legs; my legs didn't give in after kicking while swimming or during the bike or run. I've noticed that I felt less fatigued after swimming. Moreover, despite its perfect fit to my skin, it's easy to wear and take off the suit, so I was able to shorten my swim time as well as shorten my transition time.


Shoji Mizoguchi
[T06] Aero swim shorts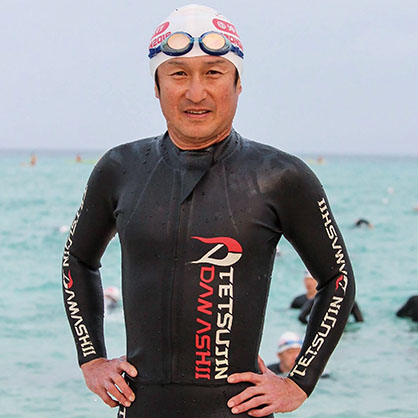 I tore my Achilles tendon on my left leg and have recovered to the point where I can start training; however, with certain movements such as turning and kicking during running and swimming, it is not fully stable yet. As a result, I decided to purchase the TETSUJIN DAMASHII® Aero Swim Shorts and start training. The benefits of the Aero Swim Shorts are: 1. I'm able to wear them without any discomfort; 2. I can wear them for a long period of time; 3. I can maintain a streamline; 4. It helps stabilize my lower half of the body as if I were using a pull buoy; 5. It stabilizes rolling; 6. It definitely helps my swimming ability. It's ideal for athletes who injured their legs like I did. It's also ideal for those who have difficulty keeping the lower half of their body afloat or those who are not too good at kicking. My swim time has increasingly improved. This is the best training item for me.